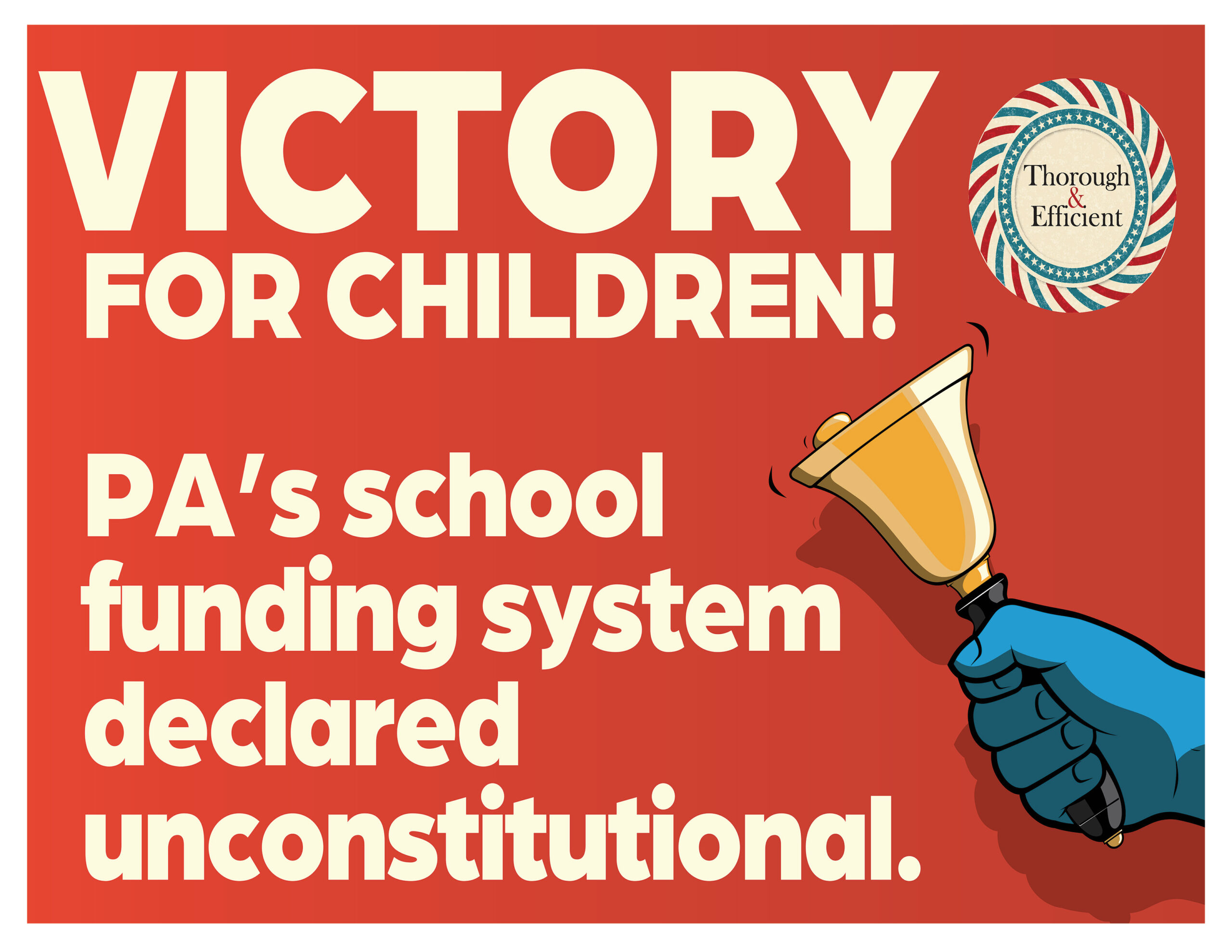 Commonwealth Court's recent court decision declaring Pennsylvania's school funding system unconstitutional is a historic victory for students!
We need to celebrate this huge win AND we need to call on our state lawmakers to take the necessary steps NOW to fix Pennsylvania's unconstitutional school funding system. Complying with this ruling will change the future for millions of families, so that children are no longer denied the education they deserve.
We are asking advocates to organize press events in their community to help to build public and political will in communities throughout the commonwealth for the state funding that students need and deserve. These can be gatherings of parents and community members in a town square or on the courthouse steps calling on state lawmakers to comply with the ruling and end the infringement on students' rights without delay.
We have put together resources to help you with your event. and our staff is available to help! Email sspicka@educationvoterspa.org with any questions or needs!
These events will help inform people in your community about the lawsuit and what it means for children in your region. They will also help ensure that your state lawmakers understand that their constituents are expecting them to comply with the court ruling and end the unconstitutional state funding system (we know lawmakers pay a lot of attention to what is in their local press).
If you plan to hold an event, please fill out this form so that we can add your event to the Thorough and Efficient website, where we will be posting and tracking events and press.
And please click HERE and take a minute now to sign this petition to Tell your state lawmakers to make their top legislative priority working with Governor Shapiro to provide adequate and equitable state funding for public schools in every corner of the commonwealth so that all students will receive the quality public education they are guaranteed in our state constitution.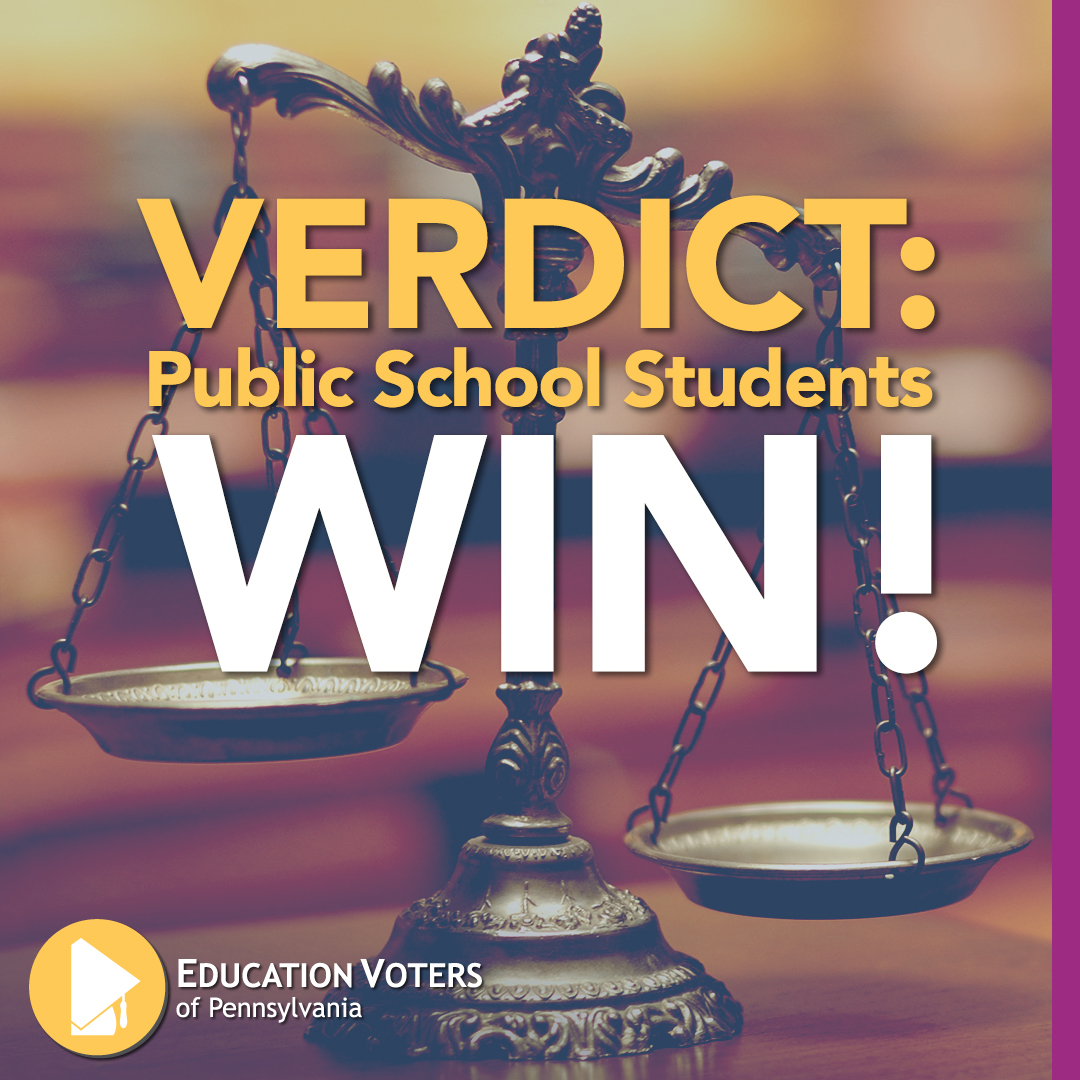 In a historic victory for students, on February 7, 2023, Commonwealth Court ruled that Pennsylvania's current school funding system is unconstitutional.
The judge issued a clear directive: "All witnesses agree that every child can learn. It is now the obligation of the Legislature, Executive Branch, and educators, to make the constitutional promise a reality in this Commonwealth."
The case was first filed in 2014 and went to trial in November of 2021. During four months in the courtroom, plaintiffs shared heart wrenching testimony and mountains of data as they made an irrefutable case that Pennsylvania's current school funding system denies students in low wealth and low income school districts the quality public education that they deserve and that is guaranteed by the Pennsylvania constitution.
This ruling is a decisive win for students on all counts and has the potential to change the lives of millions of students and their families.  
We are deeply grateful for the courageous plaintiffs who shared their stories. We are grateful for the attorneys who spent years preparing the case and months in the courtroom. We are grateful for the educators and school staff who dedicate their professional lives and their hearts to teaching public school students. And we are especially grateful for advocates who have stepped up for years taking action to support students.  
We will share additional analysis of the 786-page Court ruling from the Education Law Center and Public Interest Law Center when it is available. We will also be sharing additional opportunities for you to take action to support this decision–so please keep an eye out for emails from us in the next few days.
For now, take a moment to read and admire this ruling and imagine what a fully-funded, equitable school funding system that provides all students with the resources they need could mean for millions of children in the commonwealth.
NOW, February 7, 2023, following trial in this matter, Petitioners' Petition for Review is GRANTED. The Court DECLARES as follows:
The Education Clause, article III, section 14 of the Pennsylvania Constitution, requires that every student receive a meaningful opportunity to succeed academically, socially, and civically, which requires that all students have access to a comprehensive, effective, and contemporary system of public education;
Respondents have not fulfilled their obligations to all children under the Education Clause in violation of the rights of Petitioners;
Education is a fundamental right guaranteed by the Pennsylvania Constitution to all school-age children residing in the Commonwealth;
Article III, section 32 of the Pennsylvania Constitution imposes upon Respondents an obligation to provide a system of public education that does not discriminate against students based on the level of income and value of taxable property in their school districts;
Students who reside in school districts with low property values and incomes are deprived of the same opportunities and resources as students who reside in school districts with high property values and incomes;
The disparity among school districts with high property values and incomes and school districts with low property values and incomes is not justified by any compelling government interest nor is it rationally related to any legitimate government objective; and 3 7. As a result of these disparities, Petitioners and students attending low wealth districts are being deprived of equal protection of law.
Background
In 2014, the Public Interest Law Center and Education Law Center- PA filed a lawsuit against state officials on behalf of parents, school districts, and organizations, claiming that the funding system (decided by the legislature) in Pennsylvania is not only wrong, it violates the state Constitution. The case goes to trial in 2021.
Throughout Pennsylvania, schools have not received adequate and equitable funding to meet our children's educational needs. Yet the Constitution says, "The General Assembly shall provide for the maintenance and support of a thorough and efficient system of public education to serve the needs of the Commonwealth."
The state government is breaking its own law, underfunding our schools by billions of dollars, and our kids are suffering. Pennsylvania provides a smaller share of total funding for education than almost all other states. This reliance on local funding creates huge disparities between rich and poor school districts.