We started with a question: How can we help people understand what students experience in the commonwealth's most underfunded schools?
Our answer: Bring an old toilet to the steps of the PA Capitol!
Why?
With the trial in Commonwealth Court challenging the state's school funding system happening in real time down the street from the Pennsylvania Capitol steps, we wanted to bring to life the testimony of Panther Valley superintendent, David McAndrew, who testified that in his district 75 kindergarten students share a single toilet.
I happened to have an old toilet in our house that was about to be replaced, so we decided to bring it to Harrisburg to help make our point.
More 100 advocates from 15+ counties came to Harrisburg for the event we organized with Children First as a part of our Thorough and Efficient effort. Seventy-five people read compelling quotes from the trial testimony to illustrate what it would feel like for a 5-year-old to have to wait behind 75 people to use the toilet.
Click HERE to read the 75 statements from the lawsuit testimony that advocates read on the Capitol steps.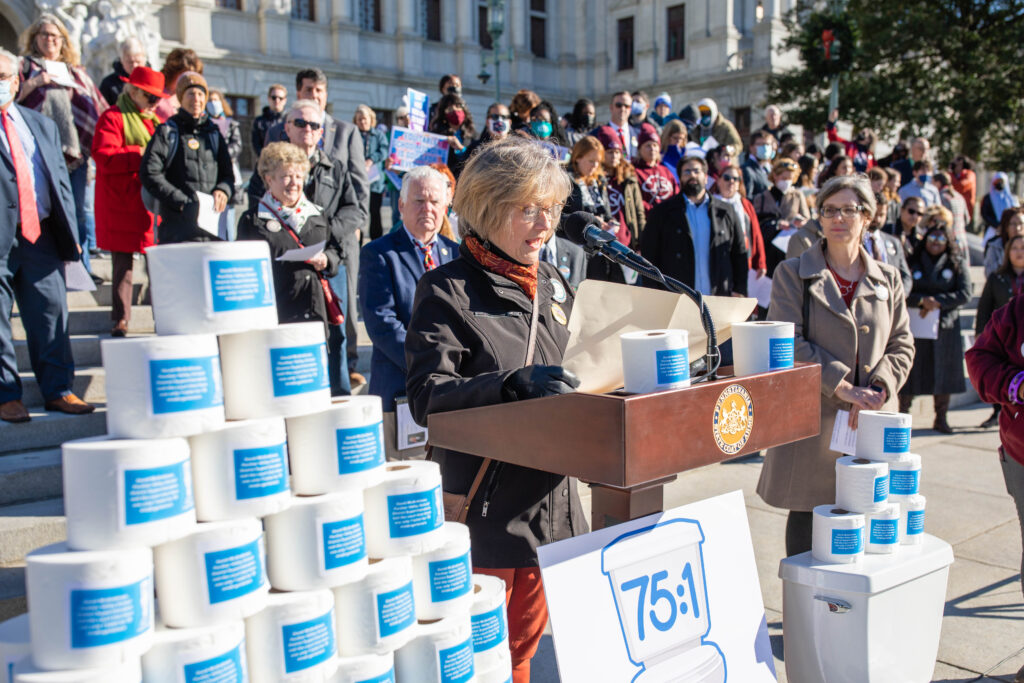 One PA, CASA, and the American Association of University Women made the trip to Harrisburg along with individual advocates from Pittsburgh to Philadelphia and from Wilkes-Barre to Shippensburg. It was a beautiful day to stand up for the funding our students deserve.
Join a trial watch party and see live testimony

.

Click HERE to join a lawsuit watch party from 9:30am-10:30am on Tuesday, December 21. Sandra Miller, Ed Voters' advocacy coordinator, will give us an overview of what is happening in the trial and then we can all watch the testimony together and chat about what we hear.

Every day that the trial is in session, it is livestreamed. Visit www.FundOurSchoolsPA.org to tune in any time. I most highly recommend tuning in. The testimony is powerful.
We get the work done!
Whether it is writing a report, talking to the press, training advocates, organizing events, or even bringing a toilet to Harrisburg, Ed Voters gets the work done. We do this work with optimism, love, and passion in every corner of the state and would be grateful if you would make a donation to help us enter 2022 in a strong position to help achieve wins for the students who need them the most.